Remembering Lúcás (Yiu Sing Luke) Chan, S.J.
The June Issue of the FIRST is dedicated to our friend Lúcás (Yiu Sing Luke) Chan, S.J.
Here are photos, articles, and reflections as well as a Homily by James Keenan and a Eulogy by Charles Chan.
 Reflections:
Pioneering Asian theologian in biblical ethics dies at 46 - Joshua J. McElwee
A musical arrangement by Niall Markey:
"This is my own arrangement of a traditional piece of Irish liturgical music. it was originally written as a poem by Fr. Micheál Ó Síocháin in 1916, and was later set to music by Seán Ó Riada in 1968.
I dedicate this beautiful piece of music in loving memory of my late and beautiful friend, Fr. Lúcás Chan, SJ (06/07/1968 - 05/19/2015)" 
Listen to the arrangement here:
Photos of Lucas:
Lúcás at Marquette Commencement, May 17, 2015
Lúcás around the world with CTEWC:
Lúcás at Padua, July 2006
Lúcás at Trento, Italy (July 24-27, 2010
Lúcás at the Bangalore Conference, July 12-15, 2012
Lúcás at the Nairobi Conference, August 21-23, 2012
Lúcás on a safari in Kenya with Fr. Andrea Vicini
Lúcás presenting a paper in Berlin, June 27-29, 2013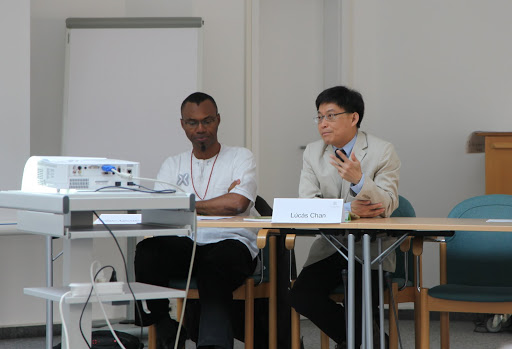 Lúcás Presenting a paper at Krakow Conference, 2014
An Academic Legacy: Publications by Lúcás Chan

"The Hebrew Bible and the Discourse on Migration: A Reflection on the Virtue of Hospitality in the Book of Ruth," Asian Horizons 8.4 (2014) 665-679
"The Bible and Theological Ethics: 3D," Theological Studies 75, no. 3/4 (2014) 112-128.
"Catholic Theological Ethics: Some Reflections on the Asian Scenario." In Moral Theology in India Today. Edited by Shaji George Kochuthara, 101-21. Bangalore: Dharmaram, 2013. 
"Bridging Christian and Confucian Ethics: Is the Bridge Adequately Catholic and Asian?" Asian Christian Review 5, no. 1 (Summer 2011): 49-73.
"As West Meets East: Reading Xunzi's 'A Discussion of Rites' - Through the Lens of Contemporary Western Ritual Theories." In 'Ahme nach, was du vollziehst.' Positionsbestimmungen zum Verhältnis von Liturgie und Ethik. Edited by Martin Stuflesser and Stephan Winter, 101-20. Regensburg, Germany: Friedrich Pustet KG, 2009.
with James Keenan, "Bridging Christian Ethics and Confucianism through Virtue Ethics." Chinese Cross Currents 5, no. 3 (July 2008): 74-85.
"A Liberating Creed" - Loyola School of Theology, PowerPoint for Synthesis Paper
"A Liberating Creed" - Loyola School of Theology, Full Synthesis Paper
For a full CV of Lucas Chan's Works, click here.
To view the tribute page we have setup for Lucas, click here
Share your memories

If you would like to share an article, photo, or memory about Lucas, feel free to send it to quintanc@bc.edu and it will be added to our website tribute.